Netstat + possible intrustion
---
Author: Thank4help,
Posted: Sat Sep 22, 2012 4:16 pm

Post subject: Netstat + possible intrustion
----
To preface this, I had a blue screen of death 2 weeks ago, where no possible recovery option worked. Trust me I tried all of them. Right now, I want to find out if my computer is sending out my information to a server. I also want help figuring out if my computer is vulnerable again.

I ran a netstat on my computer and here is what I got. I ran it a second time about an hour later, and received non of the previous querys.

Also, I am connected through apple airport extreme.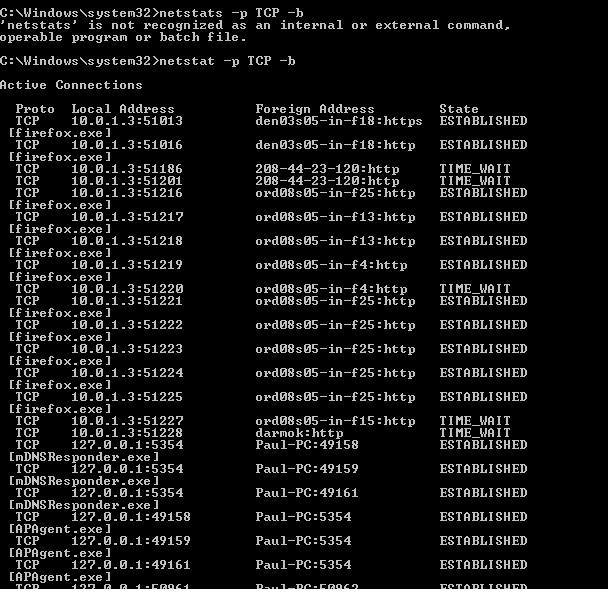 ---
Author: Burzum,
Posted: Tue Sep 25, 2012 12:50 am

Post subject:
----
That mainly looks like browser connections to me.

Assuming Paul is your user name those connections are local.

However whilst that is just a general observation and doesn't have any answers, I assume this bothers you greatly. If so I would advise doing a Spyware scan of the system. Thereafter I would insert your windows CD upon reboot and repair windows system files to resolve that blue screen of death.

Avoid online virus scans as they contain spyware
---
Author: WHUK_Barb,
Location: Leeds, UK
Posted: Mon Oct 15, 2012 2:03 pm

Post subject:
----
A Blue screen of death can be due to multiple reasons when using Windows, so as suggested by Burzum in the last reply, you should first scan your system with a spyware detection and removal software. Make sure that you do that in safe mode.

I don't really find anything suspicious in the screen-shots that you shared in your post above. Though to confirm it, you may run through your firewall logs once.
---
---
---

output generated using

Powered by phpBB 2.0.x © 2001 phpBB Group